Post by bombora on Apr 20, 2020 22:27:41 GMT -6
graygaze
thistleclan
gray korat tom with peridot eyes
warrior

Tom
36 moons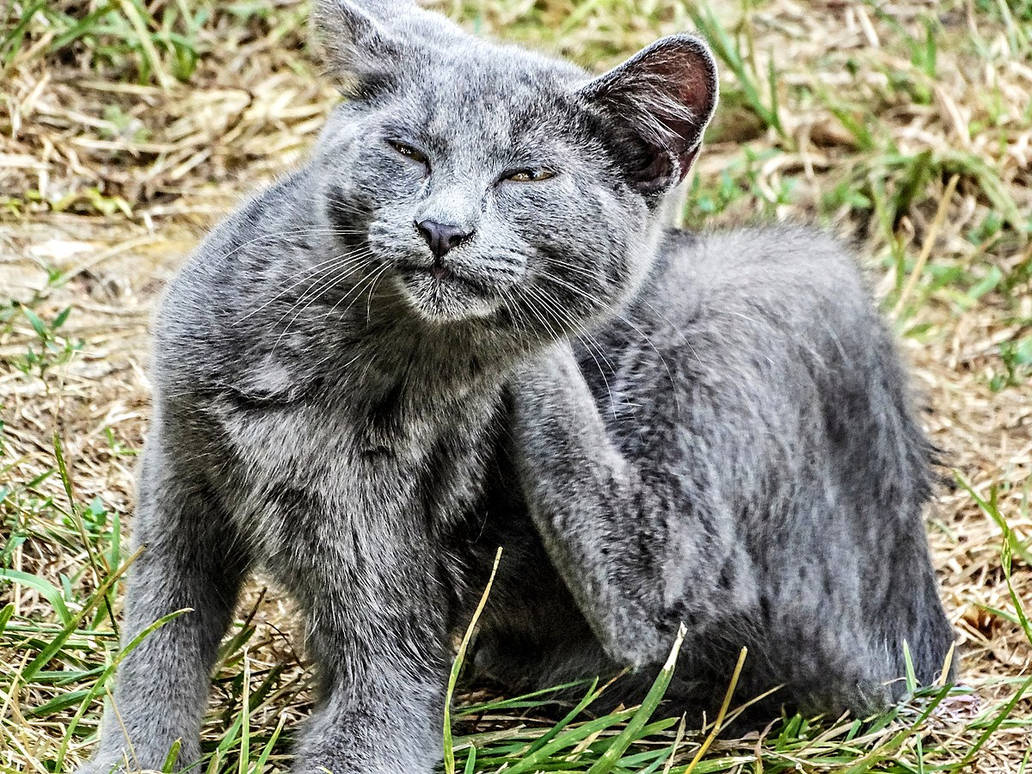 Appearance
Graygaze is a Korat tom, his pelt a rain-cloud gray. His coat seems to give off an aura, or shimmering effect that looks like sea foam. His hair is short and close-lying with silver blue roots. There are some faint white markings scattered over his frame that have only increased in size with age.

Graygaze does not appear to have much heft at first, but his strength is deceptive. The bulk of his weight is carried towards his front through well-developed, muscular shoulders. He is a medium-sized tom with a broad chest. His lanky legs give him a long stride whenever he runs and his tail is long and sleek.

When he decides to keep his eyes open, they are large, luminous, alert and observant. Their color is a peridot green. His ears have rounded tips, with a large flare at the base complimenting the heart shape of his head, not sitting too low or too high. He has a pointed chin and a brow that slopes to the center of his forehead.


Personality
Graygaze appears to be aloof, introverted and snarky; often excluding himself from interactions with his Clanmates. He is a lazy tom who's natural inclination is to do as little work as possible during any given day. His free time is usually spent sleeping, stargazing, or grooming himself and he is rarely found not doing one of those three things. Graygaze's self-appointed destiny is to live unremarkably, free of anything noticeably good or bad, then die just as unremarkably as he lived. When faced with the potential for conflict or commitment, Graygaze will attempt to expedite the situation however he can. The tom has little patience for roundabout solutions to complex problems, preferring a more head-on approach if possible.

Graygaze lacks the steadfast loyalty of many warriors and has an anti-authority personality. His practical goal-based mindset has proven difficult when relating to other clan cats. The Korat believes that the majority of cats on the island never really had a choice to become warriors. In his estimation, they are all just products of their environment. The alternative to being a clan cat was death - or the brutal life of a rogue, fending for oneself at the corners of the island day in and day out. Was it really honorable to grow into a role that was indoctrinated in you since birth? Graygaze suspects that other cats must know this, but would be too ashamed to think about it for too long. His being in ThistleClan is mutually beneficial for both him and his clanmates' wellbeing, but he is more prone to act on his own morals and compunctions.

Despite his resignation to his fate as a warrior by default, Graygaze harbors some contradictory pride. In the grand scheme of things, he knows his life doesn't really matter... and yet, he hates to lose. Graygaze values inner strength, confidence and a profound sense of self. It is for these reasons he has come to relish battle. A flimsy sense of duty to one's clan wouldn't be enough to carry a cat through war. Cats showed their true colors when their claws were out. Graygaze starts his fights intelligently, employing misdirection and feints in his combat style when testing out his opponent. Despite his skill in out-boxing though, the warrior excels in the close quarters brawl even more.

Ruthlessness comes with the life of a Warrior, and so Graygaze does not hesitate to maim or kill. Graygaze does not know himself whether his propensity for lethality stems from his apathy towards the warrior code or his own bloodlust. While initially seen as a harmless dolt by his clanmates and others, Graygaze has killed rogues and clan cats alike as of recent times. He's been appearing on more and more ThistleClan patrols for his efficiency and brutality.

History
Graykit was born in a dark tunnel with two litter mates close behind him. He was the last to open his eyes, the last to learn how to relieve himself proper and the last to wean off his mother's milk. His siblings took to play-fighting and exploring outside their den as most kits were apt to do. Graykit had to be dragged out by the tail. His mother initially thought something was wrong with him. "Yeah," his father mewed. "He's a little mouse-brained."

The weird kit's progenitors had an apathetic parenting style. They fed their kits, sheltered them, but neither cared to impart any wisdom or moral lessons pertaining to StarClan or the Warrior Code. Such things were to be decided for oneself. Graykit would only pick up the occasional scrap of unconventional advice from dear old dad. "Don't just stare at the sky with your mouth open like that or you'll choke on a flea, idiot." Stuff like that.

Froststar could be forgiven for totally forgetting about Graykit's existence when it was time to appoint Warriors new apprentices in the midst of leafbare. The old leader had the position for only a short while, and he had come down with a terrible greencough - he could be forgiven for not paying attention to every single kit in the Clan. The daydreamer was thus half-mindedly assigned to Pinefoot: a Tortoiseshell she-cat who never had an apprentice up until that point. Pinefoot was as happy as a lark when she took her apprentice out to train by the Great Owl Tree, but her excitement drained like a hole in a beaver's dam when they started. Graypaw never followed through. He would catch the scent of mouse before Pinefoot did, his form perfect as he stayed low to the ground, quiet, and as his paws left the earth with an explosive burst of speed. He had a sixth sense for timing and knew when to hold back or take off... until the prey fled. Graypaw's pursuit slowed into a middling jog. Pinefoot couldn't hide her frustration.

"What are you doing!? You had that mouse!" Her whiskers twitched with fury. "You do this every time, Graypaw. You have your prey right in front of you and then you just give up whenever it moves! You have to chase."

The gray tom shrugged. "Whatever," he replied. That's what he always said whenever he got yowled at. Whatever. "If I had it either way then does it really matter whether I kill it or not? I don't want to go through the trouble of carrying my mouse all the way back to camp. Some old fleabag will just eat my catch in front of me, anyway. That's rat pellets." The apprentice's look soured. "Besides, it's not required. I see a bunch of apprentices taking their kills back for themselves and you always make me bring back prey for the elders! That's not the ThistleClan way!"

Pinefoot's ear twitched slightly. Graypaw never talked back, or got upset, or had any meaningful dialogue with her during their first few days of training. All this mopey apprentice needed was a bit of incentive. "No, it's not the ThistleClan way," she mewed. "But it will be your way. You have potential, Graypaw. It would be a disservice on my part to see you become another vicious brute who can only ever communicate with your clan mates through intimidation."

Graypaw took at least some heed to his mentor's words. He brought back a bit more prey, listened to her orders here and there, but it was more out of annoyance at Pinefoot's pestering than a sense of obligation. Graypaw proved mediocre at most clan responsibilities - barely even putting forth the effort. The one exception to this was his battle training. The sleepy tom seemed to be awoken only when scrapping with other apprentices or learning new moves. Despite this blip, most ThistleClan cats saw Graypaw as dull and unlikable.

Graypaw did just enough to earn his warrior name. Graygaze formed bonds with a few cats, but he was largely too bitter for most to appreciate. He was living his life unremarkably... just as he wanted. Until, of course, he encountered a certain Tigerpool of RedwoodClan. A brief clash at the border would instill in Graygaze a fondness for blood. The gray warrior would from then on openly criticize clan life, the cowardice of his leaders, and seek a place in more dangerous patrols.

Most of Graygaze's friends died after a great flood had decimated the Pine Forest. He had stuck his neck out for their medicine cat, only for them to die of sickness regardless not but a few days later. This event shattered what little optimism Graygaze had in his clan's brotherhood and reinforced his distaste for the current state of the clans.