Post by rain on Mar 26, 2020 15:32:26 GMT -6
FLICKERPAW
REDWOODCLAN
brown tabby tom with green eyes
apprentice

Tom
6 moons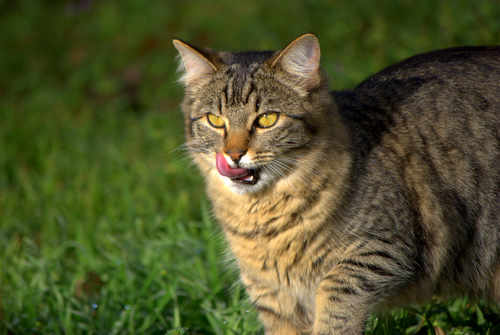 Appearance
- 183

Flickerkit seemed to have dipped himself in another gene pool, because unlike his slim parents, even before this kit had digested a single thing he was out of the womb a little on the chubby side. This will hopefully grow into muscle, but what makes it an odd distribution was the fact that he is a bit on the small side of the spectrum. Hefty and small? Might not be the best combo, but his general looks make up for it.

He has his father's handsome green eyes, while he had his mothers strong frame and thick pelt. His fur hue is a bit of a darker, dirtier brown than his father's, as well as lacking the white touch his entire family inhabits. Flickerkit also harbors a unique set of dark black stripes that scar over his body. In terms of pelts, Flickerkit is definitely the oddball of the litter. While his siblings got a healthy mix of both parents, he is just a grittier, darker version of his father with the only immediately recognizable feature being those pale spring colored eyes.




Personality
- 417

Flickerkit is the type to never be taken seriously. In fact, its a little annoying.

ANNOYING; Flickerkit is loud, and his volume is one of the things that triggers a lot of cats. Even if he was actually trying to whisper, it would still sound like a hushed yell. He also won't ever stop talking. If you don't see him yammering his maw, there's something wrong with him. His overwhelming presence can definitely be a lot for cats to take.

CHARMING; as annoying as Flickerkit is, he is actually quite the charmer. If the cat shows even the slightest femininity he will try and flirt with it. And the second he's flirting, it's like he is a different cat altogether, saying all the right things and making you blush.

LAZY; If Flickerkit had the choice between hunting or fighting, he would choose neither. This tom has no ambitions or intentions of working hard. He's the type to expect things to just fall right into his paws, and just natural born talent to prevail. Did I mention he was over-confident?

OVER-CONFIDENT; Flickerkit is a bit full of himself. He can't accept the fact that anyone else could have a superior intellect than him or that his decision making could be with flaws. It is hard for him to accept he's wrong, and he can get really defensive if ever even made the suggestion.

PESSIMISTIC; Flickerkit also has a hard time thinking positively. You will always find him preparing for the worst and never the best. It isn't like he is bursting with negative energy or anything, he just has a bad habit on focusing too hard on the bad of a situation than the good.

MANIPULATIVE; Flickerkit is very good with his words. Too good maybe. He is really perceptive to others thoughts and feelings and the potentials of them. And he does have a natural tendency to take advantage of them. This could either be a quality that could make him a great leader one day, or a great villain. He does greatly prefer leader positions, but his ambition is lacking. Maybe that will deter him from being either a leader or a villain and we won't have to worry about either.

REBELLIOUS; What won't help his path of evil is how rebellious Flickerkit is. He absolutely hates rules, and if he could run wild and free as a rogue, he would if he wasn't bounded by his parents' legacy. A trouble maker at heart, if you will.



History
- 76

Flickerkit and his siblings, Flamingkit, Cinderkit and Flarekit, were born from a passionate romance. From what the stories say, Finchstar had chosen Redfox as his deputy for her bravery and sense of justice, then moons later they became mates due to a rather unexpected conversation. But Flickerkit will always believe his father chose Redfox as deputy because he already had a crush on her, and it would take moons for him to finally admit it.