Post by fallenreaper on Feb 3, 2021 16:35:42 GMT -6
SPIDERPAW
lichenclan

blinded long haired smoke tom

aPPRENTICE

TOM

11 moons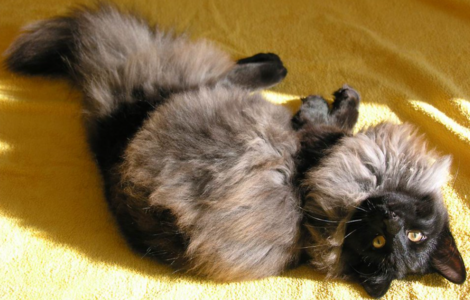 Appearance

Spiderpaw's eyes are a milky white thanks to being blind from birth. A fortunate thing since he is a smokey and shorter version of his mother. The fur along his neck has grown out into a furry mane with a silver tint to its dark coat. Other places with the same collection of fur are the chest, belly, and tail that is often wrapped about him. The rest is a darker shade of black instead of the tortie pattern his mother has.

Compared to the other apprentice, he appears to be notably among the shortest. His body has sturdy built with slender legs and despite being blind, it takes a bit to knock him down. He has a wide face with a thick muzzle and board ears on the top. They are always alert and his head rotates to catch any sound around him. His whiskers are kept in prime condition as they spread out, their senses extended by the length.

Spiderpaw appears to be very aware of his surroundings despite his lacking eyesight. It's likely thanks to his rather long whiskers which wisp from his face. While he can't see himself, his posture depicts strength and pride in his being. Or at least, what he thinks is one.


Personality
+ Perceptive/Intelligent
With the loss of his sight, Spiderpaw has been forced to adapt. He needs to 'see' the world in a variety of sounds, tastes, scents, and touches rather than in color, shapes, and other visual elements. It forced him to pay attention to more than himself and figure out solutions to his weakness.

To identify his clanmates, he's learned to differ their voices by sound and habits. The more familiar he is with them, the easier it is. The opposite is true if he isn't. He navigates his surroundings by touch, sound, and scent as he memorizes each twist and turn of the caverns he calls home. He's counted his pawsteps in both a running pace and walking one, ensuring he is fully aware of how long it will take him to travel it. At first, the echoes confused him until he practiced walking among them.

-Begrudging/Aggressive
It's no surprise that Spiderpaw envies everyone's ability to see. When a color, unfamiliar shape, or another aspect he becomes frustrated at his inability to picture. This results in him becoming bitter and aggressive. With his patience out, he struggles to keep the passive-aggressive tone out of his voice. While he's not stupid to lash out with his words, he finds it hard to hide his frustration. In the company of those that have gotten to know him, they know it's best to let him cool and apologize in his own time. Talking some sense into him during his present mood is foolish.

It is not often to see him reflect upon his behavior within the moonpool's presence. It's a fitting place to confess his sins after all and let himself be judged. Each time, Spiderpaw can't help but hope he might gain his sight. At least, if they deemed he had atoned for the sins of his mother.

+/- Independent
Like his mother, Spiderpaw prefers to do things himself than rely on others. Sadly with his handicap, he's learned it's not as simple as he hoped. Some things can't be done along and he's been forced to pair with others. This makes him irritable when he is forced to depend on another to aid him. While he's grown to accept his limitations, any time he can do something himself he will and with pride.

Starclan:

Spiderpaw, like most other Lichenclan, believes deeply in Starclan. He believes Minnowstar, Cinderface, and her apprentice are the mouthpieces of their ancestors and their word the law. To resist that risks sin and punishment. This had led him to blame his mother for her sinful behavior since he believes she's the one that forced Starclan to take away his eyesight.



History
Spiderpaw doesn't know his father is Yewthorn from ThistleClan. It's a good thing too or it would shatter him, believing his sin could never be purged. From a very young age, he has been led to believe Quickstrike and Shadowface are his biological parents. Neither of them discouraged this belief. Both held very different parent tactics that influenced Spiderpaw today.

Shadowface tended to be distant and more politically involved with the clan than his father. In Spiderpaw's mind, she drew a line in the sand between her family and clan. She wasn't a terrible mother, but to claim she was a dedicated mother would be a lie. Often times, the clan took her attention. The last lick happened with her antics during the full moon confessional ceremony when she left both Cresspaw and him alone.

Unlike his mother, Quickstrike had always been a present and empowering father figure. Fond memories are etched in his memories as he tried to learn through the older tom's wisdom. Without his father, he wouldn't have gotten as far as he did. Sadly the patience lessons were the most difficult since he hated the time it took to learn. In his latter moons, his father appeared to pull away. Spiderpaw can't understand the reason as he assumed it's due to his mother's or his own sins.

Over the moons, Spiderpaw found his training with Blizzardblaze difficult and harsh. Sometimes the mentor pushed him until his paws bleed and his fur ripped out. Often he fell into the confines of his nest only to wake shortly again to attend to his duties. He hated it, but better than trapped in the elder's caverns and useless.

He fought to ignore the sensation of stares on his flank whenever he walked by his clanmates. Either they stared with pity or disgust, the latter often made his fur bristle. In his young moons, Spiderpaw kept mostly to his father, brother, or himself. Though when Cresspaw started to expand his social circle, he retreated to solitude. Tempers came to clash whenever his brother's callous, irrational words spilled from his muzzle. Didn't the fish-brained cat realize how blessed he was? Thankfully Quickstrike had been there to prevent serious damage.

In Spiderpaw's free time, he traced the caverns of their home. By now, he knew it by heart and travel it in his sleep. Few cats knew it better than him in the end. It helped, he loved the darkness since his prey could rarely see him approach. After spats with his clanmates, he wandered to the moon pool and confess his sins after a bit of reflection. For most of his clan, he's nothing more than background or pitied him.

Recent news reached his ears about the skirmish near the heathen's borders. His heart sank when Blizzardblaze had been listed as one of the fallen. In secret, he feared what his fate might become. Would Minnowstar assign him a new mentor or simply let him fade into nothing?