Post by zingular123 on May 20, 2020 2:01:33 GMT -6
Hailpaw
Lichen Clan
Slender built, white striped male cat with yellow eyes
Apprentice
Male
8 Moons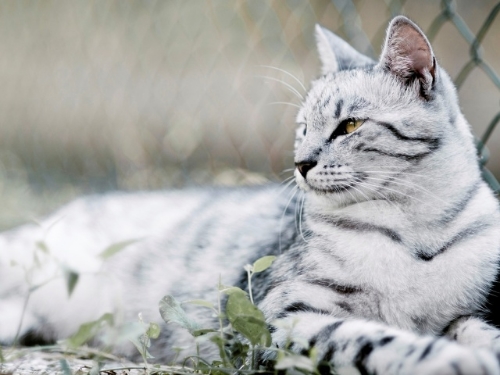 Appearance
Hailpaw has a slender built structure with a hint of muscles forming around his shoulders and arms. Such bright eyes could be seen among the white fur, many cats swore they were staring into stars. White fur covers his body, white stripes swarmed around him, matching the ripples from the waters. A sign his parents thought was from Star Clan showed that the male kit was a true member of Lichen Clan. The male cat has a diamond-shaped face, with an 'M' on his forehead, and a charcoal black nose.
Personality
The photo above matches the young cat's personality: A calm, yet relaxing demeanor. It was rarity to see the cat get aggressive or stern towards his clan mates. But if he was angry, it was due to defending those that dare tease his sister for her height. With a clam personality, led the cat to adopt a mature personality and be a bit of an introvert. After the sudden deaths of his parents, it was just himself and Icepaw. Spending more time with Icepaw, rarely interacting with other clan mates. And when he did, he was very selective on who he interacted with. Only having a select view for friends. Hailpaw found it exhausting socializing, and preferred curled up in a corner of the den and take a nap over bonding with a clan mate.

When around Hailpaw, cats never knew what would come out of his mouth. If a cat said something, Hailpaw would say something in sarcasm as a way to make themselves feel foolish or as an attempt to joke around with them.


Though he may be mature for his age, deep down inside there is a cat that can be jokingly sarcastic, and enjoys challenging someone to a play fight.
History
KIT HOOD:
It was a cold late evening, Feathertail was expecting what she had hoped would be her first full litter of kittens. But sadly, only two out of the five kittens survived. Hailkit was born along side his sister, Icekit, both found snuggling close to each other beside their mother's warm belly. It wasn't difficult to find Hailkit with a pure white fur with grey stripes, but on the other hand it was a different story for Icekit. She was quite small, smaller than the average size for a runt kitten in a litter. Feathertail and Snowbird had prepared for the worst, but to their surprise the kitten earned her strength days later. But having a sibling who was not as strong as you, led the young cat the responsibility to look after Icet and put cats in their places after they would joke around for Icekit's height. But, the young cat will soon realize he would have even more responsibility soon.

At just three moons old, their father, Snowbird was found dead by Lichen Clan, after confronting a RedWood Clan cat for trespassing their territory. Heart broken, Feathertail fell into deep depression, not bothering with her kittens and refused to eat. A month later, Feathertail died from starvation. Leaving the kittens to be looked after by the queens. Though, it was difficult living their kit hoods without neither parents, Hailkit was relief to at least have his sister, and promised to be there for her no matter what.

APPRENTICE HOOD:
Hailkit (now Hailpaw) was thrilled when he finally started his training as an apprentice, being assigned to Birchtail. Who he admired the most for her loyalty towards Star Clan and Lichen Clan. Wanting to be like her as he got older. Unfourtantly, his sister, Icepaw had to start her apprenticeship a moon later, after she recklessly trespassed Thistle Clan's territory. Which as punishment, Icepaw's apprentice training was held back a moon later. Hailpaw did feel for her, but knew it was only fair and reminded his sister that it was better than losing her life.

After Icepaw's apprentice training started, she was assigned to Blizzardblaze. While Hailpaw remains under Birchtail for training, he becomes more concern about the upcoming war between the two clans. And begin to question his loyalty to Star Clan and the safety for his sister.