Post by bombora on Mar 2, 2021 21:52:08 GMT -6
BOUNCEFire
RedwoodClan
Orange tabby tom with amber eyes
MC Apprentice

Male

16 Moons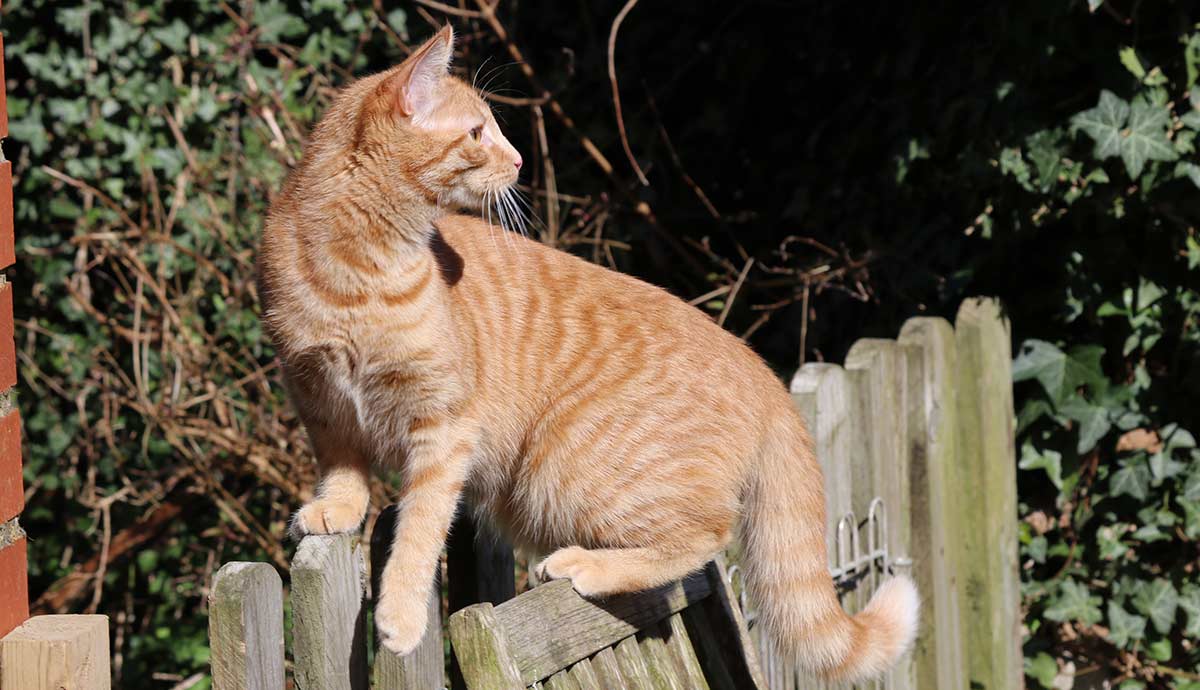 Appearance

An American Shorthair with an average build, Bouncefire is as large and powerful as most of his breed. The excitable apprentice often neglects to walk and instead opts to jump or skip.

Bouncefire is a mackerel ginger tabby cat. Dark orange rings loop around his bright yellow tail as if it were a coil of flame. Many dark orange stripes run vertically over his spine and divide him in two. The majority of his body is a fire-colored tapestry, except for his paws which are completely white. Bouncefire's most distinctive feature is a large white 'collar' that wraps around his neck.

The apprentice's face is round and topped with short ears. His eyes are a rare, deep, shadowy copper. The pattern on his face only serves to highlight his ambitious eyes, all of his stripes pointing to them in some way. RedwoodClan apprentices have noted that Bouncefire's eyes makes him look scary or unfriendly.

Personality
+ Competitive
Bouncefire wants to be the best at everything. If a warrior were to ask him what he was good at, he would answer with hunting, fighting, swimming, tracking, and whatever else a cat could conceivably do. He even goes so far as to challenge RedwoodClan warriors to sparring matches and races - always losing but never whining. Bouncefire feels no shame in falling, as he knows he will just get back up. He never flinches from a contest and is determined to have his name go down in all the Clans' history.

+ Instinctive
Bouncefire charges in first and asks questions later. He is prone to throw caution to the wind and abandon planning, never once hesitating. Boldness and courage are widely associated with RedwoodClan cats and are inherent qualities found in the spry tabby. Bouncefire instinctively feels what is right and wrong - not binding himself to either the code nor entities of authority.

- Brash
With instinct also comes an exploitable weakness. It has proven especially difficult to teach the apprentice anything before his trial-and-error mindset takes over. He makes many mistakes during training, attributed to his uncooperativeness and impatience. The tabby's over-eagerness often sabotages his clanmates' goals unintentionally. He is an exhausting presence to be around.

- Temperamental
Bouncefire does not have a filter. He has trouble containing his frustration and rudeness, unable to handle these negative emotions in a more controlled manner. He does not take insults well but deals them out freely. Bouncefire has no patience for metaphor or philosophy, and it takes him a while to even comprehend more complex ideas.
History
From the very moment he was born, Bouncekit wanted more. He explored his surroundings intensely. The tabby unabashedly played with kits from other litters and made himself known. Bouncekit unapologetically bullied runts and smaller kits while trying to ingratiate himself with the near apprentice-aged crowd, earning both praise and ire. It wasn't long before he stopped socializing with kits entirely and tried to approach apprentices, who took great pleasure in subtly teasing the pigeon-headed tom for his presumptuousness. When Bouncekit realized that they were making fun of him, he swore vengeance by vowing he would be the greatest RedwoodClan cat to ever live.

Bouncekit became an apprentice some time before the Mooncave assault. RedwoodClan was desperate for numbers in their war with LichenClan and so hurriedly the ginger tom was assigned a mentor. Complaints of the new apprentice's behavior were widespread. Frustrated warriors didn't have time to teach a cat that would not listen. Forget a skirmish with LichenClan, he could hardly catch a sleeping thrush. Redfox intermittently assigned the inept tabby to different patrols. It was a disappointment that such talent was so clumsy and hard to foster, and each setback frustrated Bouncepaw more.

Conditioning became harder even for senior warriors, which trickled down to the apprentices. The already struggling Bouncepaw could hardly keep up with his den mates and his inherent talent was now completely overshadowed by their diligent training. The gap would have gotten much worse if not for the wave of sickness that suddenly gripped RedwoodClan.

The majority of Bouncepaw's littermates and fellow apprentices died either in combat with the oppressive LichenClan or by the invisible claw of redcough. Bouncepaw was derided for only being safe because he was too useless to join regular border patrols. Bouncepaw angrily starts fights in his daily life - unable to cope with his lack of purpose or direction.

After the death of Smallpaw, Bouncepaw excitedly offers to help Orchidshade with tasks in the medicine den.