Post by fallenreaper on Sept 23, 2020 20:41:10 GMT -6
Vixen
rogue
Calico she-cat with yellow eyes
Rogue
She-Cat
27 moons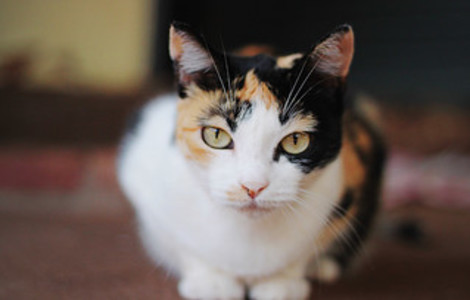 Appearance
Vixen's an interesting character when it comes to appearance. To most of the loners, she appears to be an average calico she-cat.

Her underbelly has a blotch of white that travels from her forehead onto her nose and down to the base of her tail. A large patch follows her upper front leg and across the shoulder on one side. Orange and black war across her face upper body, and tail in large, random splotches. Her paws bear odd length 'socks' of white on her four limbs.

She is more lanky and tall, standing at about 9.6 inches from paws to flank.

Many aged and healed over scars lattice across her flank, face, and limb.All of them hidden under her fur. For her, they are evidence of how cruel nature's humor is to those stupid enough not to understand the punchline.

The most unsettling part is the aura of intention she gives off. It is when she interacts in the company of average cats, you note the subtle differences. Intense energy through obvious flicks of her tail, or kneading toes. The way her body becomes still as stone then glides into purposeful movements. Like a cat too wound up to settle down, her bright eyes always track those around her.
Personality

All cats have complicated personalities and Vixen is no different. Highlighted here are a few common traits that are products created by her history and experience.

-/+ Dark and Bitter Life Philosophy
Thanks to all hardships in her life, Vixen has learned life is cruel. A bitter, dark joke that none of them can escape until the final punchline. Until the day her own arrives, she will endeavor to bring others into her living misery. This can be something as simple as crossing their path or inflicted suffering in other ways. One thing is for sure, anyone she encounters will hopefully remember her even after she departs.

The philosophy has its own perks. With her acceptance of it, she doesn't dwell on pity or grief. She feels no remorse for her actions or the suffering of others. More likely Vixen will laugh at it then turn away. It makes sleeping late at night so easily.

- Selfish/Mood Swings
Like most cats, Vixen has her own selfish needs. Sleep, food, water, and occasionally entertainment. Everything she does is driven by her own desires within the moment. Unfortunately, her idea of entertainment can edge into bloody claws and poisoned preykill. It's difficult to tell what strikes her fancy when she drifts between moods like the rhythm of a butterfly's wings.

- Liar
Among her fellow rogues and loners, she is a well-known liar. These lies come in a wide range of sizes and types. The she-cat has found twisting the truth to be fun. In her eyes, it has little value and she prefers the more amusing results from a lie than the truth. Only cats she's familiar with are ones she will give the smallest truth to. They know her too well to bother trying to fabricate long, detailed lies to fool them.

List currently:
Curiosity
Aster

-/+ Invert Expectations
When it comes to expectations, Vixen's reaction doesn't always follow what a cat might expect.

An example is on the day Mizar attacked her. Most cats would've treated the black cat with wariness or held a grudge, but she enjoyed herself. The pain reminded her of the purpose of life which is to suffer. After Mizar approached her, she now seeks out the black cat for cordial interactions. She tossed in the odd taunt on occasion. Mainly to watch the fur bristle then laugh if she received a fresh wound.

Her reactions are based on her whims, which can radically shift from positive to negative for seemingly no reason at all. One thing is for sure, it is not always predictable, and her actions don't always follow the obvious route.

Interests:

Vixen enjoys learning, but her favorite topic involved pain and suffering. Lately, her attention had been focused on discovering the poisonous plants on the island and their exact effects. Sadly Curiosity had requested she hold off on using the local rogues to test this.



History
If you ask Vixen about her history, the story always changes.
A tragic rogue, willing clan deserter, or abandoned kitty pet, no one can tell the truth from a lie. For Vixen, it doesn't matter in the end. Any cat who trusts her does it at their own risk.
However, all twisted individuals exist because certain events in their lives align just right. This is Vixen's series of unfortunate events.
"A life is simply a morbid attempt for a laugh. Amusing, isn't it?"[/cnter]
The joke started when Mottlepelt fell victim to Rookeye's honey-coated tongue at her first gathering. Being from the Lichen and Thistle clan, it didn't stop them from spending time together. The young she-cat found herself entranced and met him in secret whenever they could arrange it. These outings lead to a grave mistake when Mottlepelt learned she carried kits.
Driven by her fear, she risked her kits' and her safety to tread into Thistle clan borders. Naturally, Rookeye provided no answers. The young tom revealed his loyalty remained with his Thistle clan mate then wished her luck in finding a solution. Not the answer Mottlepelt hoped for. With a broken heart, she watched him vanish before she headed to the only available option: the northern cliffs.
Upon the end of her dangerous voyage, Mottlepelt found sanctuary within an old fox burrow. When new-leaf happened, her burden rushed into the world. She struggled during a stormy night to give birth to her kits. After three hours, Starclan blessed her with a small liter. One's birth stuck out to her and rocked her faith a bit. The largest one, a calico she-cat, had cut off the breath of life from her sibling thanks to her umbilical cord wrapped about the neck. It left a sour fear in Mottlepelt over this terrible omen, but she didn't dare to anger Starclan farther. She huddled deep in the den with her children until the storm passed.
Despite abandoning her clan out of fear, Mottlepelt kept her traditions and beliefs stronger than ever. When her kits turned three moons, they trekked to the purest water source. The river section she chose wove adjacent to the Thistle Clan border, but Mottlepelt ignored the danger. Her maddened head thought the closer to the Mooncave, the more sin she could purge
Vixen watched from a few tail-lengths away as her mother began her ritual. She submerged herself after a small prayer then popped back up. Never shaking the water off, she then turned to her kits and one by one dunk them
Finally, it came to Vixen's turn. A hard and cold glare oozed from the very pit of Mottlepelt's eyes. She roughly took her curse by the neck scruff then shoved her under the river's surface.
The older kit struggled and thrashed. Her air escaped her jaws with a yelp. A reddish tint stained the water followed by pain. Her own mother had broken skin just to keep her down.<br>While Mottlepelt tried to drown her cursed kit, Vixen's siblings grew bored. They chased each other until their antics crossed the Thistle clan border. Mottlepelt didn't spot the deep reddish-brown she-cat with pale green eyes. An exchange happened before the Thistle cat bristled then lounged at the kits. A blood-curdling yowl rattled across the wooded area. Birds scattered into the air then vanished.
Mottlepelt removed her grip on Vixen's scruff then searched the surroundings for her kits. Her eyes pinned onto the Thistle cat with her kit dangled from the jaws. a few tail lengths away, her son trembled and cried for her protection. Anger spiraled into fear as she immediately rushed into a fight.
Fur and claws flew, but the Thistle cat outmatched Mottlepelt. The loner's eye fell victim to a well-placed swipe when she managed to snatch the kit's corpse. All her adrenaline began to crumple and caused her to turn tail with her remaining offspring. Vixen paused long enough to absorb the Thistle cat's looks before she followed her pitiful family.
Mottlepelt's grief blinded her sense of direction as they walked home. Kit steps turned into fox-length then into trees. Nothing looked familiar to Vixen, her eyes penetrated the twilight scene and found only disappointment. Her ears caught her younger brother when he pawed at their numb mother. His words plead for food, guidance, and more.
Another voice cried out to them. Vixen's ear twitched and her head turned to spot a large, silver cat to their right. She offered shelter and food if they followed her. The claim tempted Vixen's weaker brother because he trotted in the direction. Mottlepelt and Vixen followed after.
They came to a declined and abandoned two-legged nest. The strange scents drew the kits to explore while Aster attempted to comfort and pry the decomposed carcass of their sibling from their mother.
After a sunrise, her mother buried her sister. It didn't heal the grief the she-cat burrowed deep inside herself. It just festered until a small, indifferent comment from Vixen set her off. Nearly apprentice age, Vixen narrowly avoided deeper scratches on her hind leg when her mother lashed out at her.
This time, Mottlepelt didn't follow her.
While she waited to return to Aster's den, she crossed paths with a cat named Curiosity. She had witnessed the discomfort he created for her mother and it endeared a connection between the two. It was this moment he gave her something of worth: her name. This bond would only grow with the future events that unfolded. Vixen returned the next sunrise so Aster could tend to her wounds. Mottlepelt avoided her, ignorant of her daughter's existence or the fact she tried to kill the young cat. The dark humor hit the young cat full on. She giggled while Aster covered her wounds in webs.
Due to her mother's growing hostility, Vixen avoided Aster's quaint den. She spent her spare time hunting and exploring her surroundings. Her success grew over time. Around ten moons old, she left little dead gifts from her more promising times. Often she collected weeds to fill them with the hope the older cat could use them.
Around her thirteenth moon, Vixen experienced another of her mother's outbursts. Her brother attempted to steal her gift for Aster. In frustration, the she-cat buried her claws into her brother's flank. Before he hit the door, Mottlepelt tossed herself onto Vixen.
No mercy was shown in her assault.
Blood splattered across the dusty floor as Vixen's patch pattern fur ripped off. She tried to flee. Mottlepelt refused her the chance and continued to pin her down. More blood and fur flew from her body as the two cats struggled. She didn't know what or who broke up the fight, but it ensured she escaped death.
It took a full moon for her to heal. During that time, she fed on the anger and pain which festered in her soul. Her mind craved to make her mother suffer. Curiosity's visits help as his words fill her with dark and vengeful promise.
"The last laugh is mine… it's always mine."
A storm had rolled up during her fourteenth moon. The perfect cover for her plan. She knew the location as she strolled up to the bush. Rain pounded down her scarred body when she reached up to snap off a nightshade branch. Lightning cracked across the skies and illuminated the darkness. Her eyes met with Aster just a few tail lengths away. Wordlessly, she bolted away into the night.
She asked Curiosity to obtain a hare the next sunrise for her. With a careful paw, she smashed the berries into the meat then rinsed her paw off in a source of water. Vixen took it by the fur and hauled it back to Aster's den. A 'peace' offering for her behavior yesterday. The thought of her apology sickened the younger cat, but she swallowed her pride and laid the fresh-kill down before Mottlepelt. Her mother turned her whiskers up. This wasn't the case for her greedy brother. He quickly snatched the offering.
A wicked smile curled about her jowls when he started to eat it. After several moments, he drooled furiously at the mouth. It spiraled into seizures and pitiful mews during his last moments. Vixen found the whole display rather amusing since his own gluttony caused it. Her eyes shifted to witness her mother's expression of fear and shock. When Mottlepelt screeched for Aster, the young she-cat vanished into the wilderness. It remained as one of her favorite memories.
For the next four moons, Vixen spent more time with Curiosity and she explored the unclaimed territory to the clan's boundaries. Fully independent, the harshness of the world forced her to learn quickly. Thieves, predators, hunger, and more stalked her every movement. All eyes waited for her to fall into line with the weak on the food chain. She refused and lashed out in whatever way she could. It made her stronger.
During her newfound freedom, she took an interest in poisonous plants. Her success with the last use of nightshade left a lasting impression on her young mind. She wanted to learn more. An idea had rooted in her mind. It took many sunrises, but she managed to collect a wide selection of plants. Whenever her hunting proved plentiful, she tainted her remaining fresh-kill by mashing roots, stalks, or even leaves into the meat. As long as the cats digested the matter, they would experience the effects. Since Vixen let it sit for a day or two, the pungent odor would hide the scent. Thankfully, starving rogues were less picky than well-fed ones. She then offered it to any greedy soul while she settled down to observe the aftermath.
Some died, but others appeared unaffected in some cases.
The taste of murder only increased her desire to discover more. A sizable amount of dead cats began to pile up before Curiosity stepped in. The tom cautioned her to stretch out the tests, and she begrudgingly followed.
"It is amusing how easily the cat can become the prey, isn't it?"
On her nineteenth moon, Vixen heard strange rumors. A crazy diluted calico cat wandered throughout the rogue territory. She shouted at the shadows, hissed at other rogues, and seemed hell-bent on a mission to locate someone. In the dead of winter, Vixen's interest got the better of her. Her paws trailed into the last known location and encountered none other than Mottlepelt.
Vixen's lip curled up in disgust at the disheveled molly. The oily fur stuck out in various directions. All her skin stretched across the bones until they poked at her hips and shoulders. Even her eyes were sunk into her skull, but the fire of hatred never dimmed. If not for that and the pattern on the molly, Vixen wouldn't have recognized the cat.
When they locked sights, a new wave of strength to pour in the half-starved cat. Mottlepelt kicked up snow on her rush at Vixen. With surprising ease, she jumped back then slashed at the unprotected face. A long, red line cut through the brow down the cheek. It missed the eye much to Vixen's disappointment. Furious at her first attacking failing, Mottlepelt yowled and went in for another assault.
They exchanged a few barbs before they struggled in the snow, their blood stained the white. With Mottlepelt's weakened condition, Vixen gained the upper paw and started to flay off chunks of fur from the older she-cat's flank. Unfortunately, her recklessness got the better of her. One of the diluted calico's swipes managed to leave a wide gash in Vixen's side. Her fur clumped in the spot while it darkened with a reddish color, but it didn't appear to faze her. In fact, Vixen's adrenaline numbed her completely.
Mottlepelt didn't know how close Vixen dangled above the end punchline with other rogues. Every day was boiled down to kill or die. It forced Vixen to accept life's harsh truths. Jerked from her inner musing, she spotted Mottlepelt leaped for her back. The younger cat twisted about and kicked up her feet. A sticky, wetness splattered across her hind claws before a soft thumped entered her ears.
Her eyes turned over her shoulders. Mottlepelt had sunk into the snow, the snow drenched in more red than before. The older cat wheezed then let out a wet cough. Her body rattled with the effort as she struggled to lift herself upright. With a slight limp, Vixen approached the she-cat. A predatory glint settled in her eyes.
Her ears pulled to the side when she caught the rustle of a bush nearby. Something larger stalked them now. A flicker of yellow, vulpine eyes vanished into the shadows as it drifted to the side. Vixen smirked then began to stroll away. Her mother left to slowly have her life drained from her. In her wake, a half-starved runt of a fox crept out. The sounds of Mottlepelt's screams faded to the sharp bone-cracking upon the air.
Naturally, her instinct guided her back to Aster. She managed to drag herself just outside the two-leg's den where she collapsed, her blood spilled across the snow. Her vision faintly glimpsed the familiar dark pelt of the she-cat approach her.
Winter had been the worst timing on her part, but Vixen didn't care. Her life drifted between life and death. The fight had taken more out of her than she realized, but she healed within the moon. As mysteriously as she appeared, Vixen left without a word. A gift of a swallow filled with grass left in her wake to be a silent thank you. She could never tolerate Aster for long periods without anger festering inside her.
"You're like looking into a river reflection. I wonder how much more amusing can life get?"
With occasional meal drop-offs for Aster, requests for healing, and trespassing along the Thistle Clan border, Vixen continued to build her reputation among Curiosity's rogues. She never saw the brilliance in the plan or purpose, but she knew better than question it. Not her job to do it.
The first time Vixen met Mizar, the fur and blood had flown. The black she-cat sized Vixen up from a distance then approached her. Naturally, the conversation soured then derailed into a physical fight. It was here that Vixen showed a disturbing trait: she held no self-preservation instinct. It caused Mizar to retreat to lick her wounds.
After that, the black cat kept her distance and observed. Vixen just gave a knowing smile then ignore the moused-heart she-cat. She predicted it would not last long at all. Eventually, her assumptions were right when Mizar approached her one day. An enlightening moment for the pair as they grew a slight fondness for each other. At least, Mizar reminded as close to an ally that she could get for her unpredictable nature.
Around her twenty-fourth moon during green-leaf, Vixen had drawn enough ire that a pair of rogues decided to band together and steal from her. A mistake on their part. She had finished catching a small sparrow when they approached her. When she hissed a warning, they attacked her like a flock of weak mouse-hearted cats. Following the conflict, one died from his wounds while the other fled.
The calico suffered heavy wounds and turned tail back to Aster's two-legged den once more. Little did she know, Mizar followed her after she witnessed the bloody affair. When Vixen learned of it, her blunt warning made it clear she held some twisted attachment. No cat but her ended Aster's miserable existence. A fact that wouldn't happen for many moons.
"The sunrises and moons all feel the same. It's all boring so I have to relieve it somehow. I can't help it if my claws get a little bloody for some satisfaction."
Much to her disappointment, her reputation reaped repercussions. A few cats had caught onto her tricks and now they only trusted her as far as a sly fox. No one wanted her 'gifts' even when they appeared to hold nothing in them. Their paranoia rose to new heights while she delighted in their worry. On occasion, she dared to venture into Thistleclan territory only to chase the boredom away and remind the clan cats the rogues still existed.