Post by BEAR on Apr 18, 2020 10:19:49 GMT -6
Cloverpaw
Redwoodclan
A broad shouldered white and silver tom
apprentice
tom
6 moons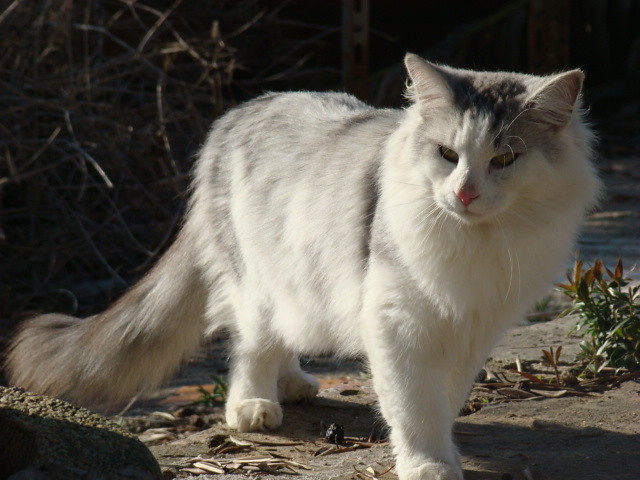 Appearance
- Of average height at the shoulders for a cat of his age, Cloverpaw still looks rather large. Beneath his fluffy pelt he is a long bodied feline. His shoulders are broad and well muscled. His limbs are sturdy and end in large strong paws.

- Cloverpaw's pelt is mostly white with light silver patches. His fur is dense and soft. The inner part stays dry in the rain/snow. This keeps Cloverpaw warm and dry during the colder moons. The soft outer part of his pelt has a light fluffy feel to it. His tail is a long plume of fluffy fur. His paws are rather fuzzy, keeping his toes warm in the colder moons.

- Cloverpaw has a heart shaped face. It is broad like the rest of him and contains a pair of large electric yellow eyes. His nose is a pale pink in coloration and his whiskers are very long and white. He has a pair of big round ears, with tufts that stick out from inside.

Personality
Cloverpaw has always been an active individual. He is always ready to engage in any sort of action going on in the clan, Whether that means helping clean out nests or learning battle moves. Cloverpaw is always ready for action.

Cloverpaw has an affectionate side towards those closest to him. He can often be seen displaying this towards his littermate Daisypaw. But in general once attached to a clanmate he displays a certain fondness for that cat that he doesn't show to others.

Cloverpaw is a benevolent tom. Despite his rather brash, ostentatious side he does mean well. He will always try to do what is right by cats. That is if he figures out what he has done isn't right. Sometimes he is so wrapped up in his own thoughts/feelings he forgets to consider that of others.

Cloverpaw is no coward. Valiant like many in Redwoodclan, he stands up for what he believes in. When faced with an adversary he doesn't think twice about risking his own life to protect others.

Cloverpaw despite good intentions can be what one might call brash. He will assert himself in a manner that often comes off as rude, even overbearing. If allowed he'll butt into conversations, take over games etc. He just wants to feel in charge and important.

Cloverpaw is most definitely a show off. It comes off as ostentatious to those who don't know him well. Starclan forbid there be a she-cat involved then he makes a complete fool of himself. Hoping to impress he ends up making a fool of himself 90% of the time.

Cloverpaw is a rash cat. He often rushes into things with little consideration for the consequences of his actions. It gets the young tom into trouble.

Cloverpaw is beyond tactless at times. He says things without thinking and often hurts others feelings. He usually is clueless to how he hurt another cats feelings. This can cause issues for him with clanmates.


History
- Cloverkit and his sister Daisykit were born to two loyal Redwoodclanners. There mother an average queen and father a talented warrior for the clan. They spent their kithood being doted on and often smothered by their over protective mother. The highlights of their days being when their father returned from his duties to play with them. Cloverkit and his sister often got into squabbles as kits. Arguing over this or that but the pair was always close. They managed to get themselves into plenty of trouble. Constantly sneaking from their nest to explore the camp. They even managed to get a paw step or two outside of camp walls. It drove their mother mad. Their father would of course scold them fiercely for this but when their mother wasn't around he praised them for their bravery. Cloverkit and Daisykit were their parents last litter. Getting up there in moons, they both retired to the elder's den shortly after their apprentice naming ceremony.


-
Now apprentices, both work hard to become warriors for the clan. They can often be found preforming their duties together.