Post by viktor on Mar 29, 2020 18:52:39 GMT -6
Pinespider
Redwoodclan
Large, long-furred white and brown tabby molly
warrior
afab
40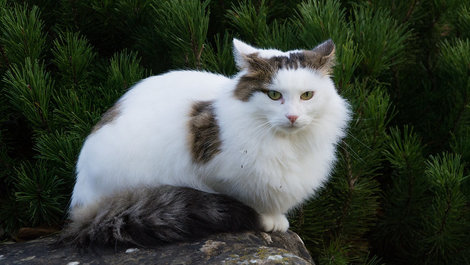 Appearance
- A fairly typical Redwoodclanner in physicality, Pinespider is a molly that stands taller than most cats, but about average in Redwoodclan. She's built a bit on the lean side (again, for a Redwoodclanner) but is layered with lean muscle. She's a skilled climber, however, after Thistlepaw's death, she is rather cautious about climbing trees. Her biggest strength is fighting. She's a formidable warrior just like her mother wanted her to be, with her skillset fairly well-rounded. Her biggest weakness is speed. She's not the type to win a race, especially against a smaller cat, so she's unlikely to be the cat to send on a long pursuit. However, her stamina, reflexes and strength are nothing to laugh at. She's a fairly good hunter as well, and does best when hunting in groups, though as a fighter, Pinespider excels both on her own, and in groups.

- Long and thick and fluffy, Pinespider's fur is almost entirely white. However, she is splotched with markings of a dark brown tabby, especially on her tail, and a couple of patches on her sides and shoulder.

- A well-shaped face, not too angular, but definitely not 'round', Pinespider's face wouldn't be too striking except for the distinctive tabby marking covering her ears and spilling minimally onto her face, except for a streak of tabby that trails down the right side of her face. It is very distinctive. Her eyes are very pale green.

Personality
- Strategic

- Thoughtful

- Resentful

-Violent

A complex cat born from a background made up of a nasty web of lies, pain and manipulation, it should be no surprise Pinespider's suffix is 'spider'. She learned strategy from her mentor Lightbird well, and she is good at plotting out how to move forward to best obtain success, for herself, and for those she cares about. And she's easily one of them best mentors the clan has, though she's only had one apprentice so far. She took a lot of maturing and work to get to the mature, intelligent, thoughtful and slightly more emotionally available cat she is today. Pinespider was raised in a fairly militaristic family and it is reflected in much of what she does. She does very well with orders, but she is good at adjusting plans to fit the scenario she ends up in. She's a team player, but functions well on her own, and she is fiercely loyal to her Clan. However, she does have a fairly violent reaction to some things, and she can be suspicious of others. She can be quick to fight, and may be a more 'prone to murder' Redwoodclanner than most. Still, her actions huant her and nightmares, insomnia and hyper-vigilance often plague Pinespider, particularly after her mother and sister's death. She is intensely protective of apprentices and kits alike, though she doesn't usually act like she likes them very much, and she does have a bit of a temper if it comes to issues like mistreating kits or pushing apprentices too hard during their training. As for her resentful trait, this is a result of Patchfang repeatedly putting down her kits when they were young in an attempt to motivate them to 'be better'. While it did work, it led to constant low self-esteem, and Pinespider struggles particularly with a sense of self-hatred or internalized self-berating. She takes failure hard, but she learns from it and is always improving. While she isn't as friendly and chatty and open as most Redwoodclanners, she isn't a mean cat, either. She is very intense, and can appear scary, and while she has killed in cold blood before, and would do it again, she isn't a bad cat, simply a complex one with some motivations and moral holes which tend to push Pinespider more into a 'bad' cat category. Still, at the end of the day, she's also one of the most thoughtful and empathetic cats you'll ever meet. She is incredibly close and affectionate with her littermates (except Honeyclaw) and her best friend Heronflower. While it can be hard for her to form friendships outside of these pre-formed bonds, once she forms them, they are very intense and strong bonds that it takes a lot to break.
History
To say Pinespider killed her mother is a bit of a stretch. She simply didn't make an effort to stop Patchfang's demise.
Let's back up a little bit, get the whole story, shall we?
(tw for child soldiers? Kinda; murder; suicide)

Pinekit was born in the dead of leafbare to Patchfang and Goldeneye. Goldeneye was a former loner-turned-clan cat with a lot to prove. Patchfang was the result of a fierce warrior line dating back probably to the founding of the clan itself. She had less to prove, and more needed to continue the lineage. Goldeneye felt insecure in his place, and needed a family to better secure his 'right' to be in the clan. (Goldeneye had some paranoia issues.) Pinekit had five littermates: Rook-kit, Thistlekit, Honeykit, Dewkit and Erminekit. Patchfang, having fulfilled her duty to her bloodline, was eager to return to a life of guts and glory as a warrior and fearsome (and gory) hunter. Goldeneye was wracked with insecurity about providing and managing six small children, especially since his mate evidently had little interest in them beyond forming them to be formidable warriors. We should not give too much credit to Goldeneye, here, though. Patchfang wanted her children to grow up strong. Goldeneye was worried if one of them died, he would appear in a bad light.
This led to strife between the parents. Patchfang had little interest in her kits, and even less interest in Goldeneye beyond a sperm donor. Not to mention, as his paranoia and anxiety over his appearance and worth became more evident, she showed no mercy and berated him for being weak. They officially broke up after a nasty fight during a joint hunt when she told him she regretted mating with a loner of such impure and weak blood. Goldeneye, terrified of Patchfang on a general level and also worried about her turning the clan against him, fell deeper into a paranoid spiral. No longer was he interested in being a family man-All of his energy was put toward patrolling, hunting and making himself seem as useful as possible to the clan. Eventually, he would find a friend in a gentler tom named Birchcloud, but a hungry fox in the territory took Goldeneye's life before he could bloom into the cat he could be, and before his kits were even 6 moons.

This left Patchfang the primary caregiver for her kits, beside her family, who all had the same ideology about kits. They were bloodline, they were warriors-to-be. Pinekit and Rook-kit both showed some interest and talent for medicine cat work, but it was crushed by three different family members almost simultaneously. In the end, Pinekit, Rook-kit, and Thistlekit would end up in the medicine cat den anyway, with a case of greencough. Patchfang left them essentially to their own devices, ensuring the health of her stronger kits and assuming the three others would either pull through like the warriors they were meant to be, or perish because of their impure loner blood.
Did she say this to her healthy kits' faces? Absolutely.

All three kits managed to survive, though. Pinekit's kithood-Except for the period when she was ill-was filled with a toned-down version of warrior training. Her mother brooked no weakness, and saw absolutely nothing wrong with not only letting scuffles between her kits (or other mothers' kits) turn into real fights, she encouraged it demurely. However, the large brood was actually quite close to each other. With very little parental love in their lives, but plenty of soldier-like training from their elders, they clung to each other. You didn't see siblings this close-knit often, despite their scuffles and sharp tongues. Their rough edges were blamed on their father's influence-It was simply so easy to blame the deceased former loner than trying to face a fearsome warrior molly.

Thistlekit was the gentlest of the bunch, and often singled out by Patchfang and criticized, but the rest of the litter did their best to support him.

Pinekit graduated into apprenticehood alongside her siblings proudly, and somewhat ahead for her age. Her mother was visibly relieved to be able to return fully to her duties, and contact with her from then on was rare except for the occasional 'bonding' time which was Patchfang's way of disguising what was really an extra and especially brutal training session with her kits one-on-one to ensure they did not shame their blood. Thistlepaw got the most 'help', despite being a good hunter, he struggled with fighting and this was unacceptable in Patchfang's eyes.

The emotional and physical toll wore Thistlepaw down to a shell of his former self, exhausted and unable to improve. If anything, he regressed.While on a patrol with Patchfang, Dewpaw, Dewpaw's mentor Lakefur, and Thistlepaw, Thistlepaw fell out of a tree after Patchfang took him up with her to scout for prey high up and practice catching squirrels. He died on impact with the earth, landing only feet away from the rest of the patrol, waiting for the other two. Whether it was an accident, suicide, or if Patchfang pushed her own weakest son off the branch, remains a mystery.

Pinepaw's mentor was a slender, small molly named Lightbird. She was considered delicate and gentle and rather elegantly mysterious, and for good reason. Where Patchfang was fairly manipulative, but mostly just brutal and militaristic and good at hiding it, Lightbird was incredibly manipulative and skilled at twisting things to go her way and get what she wanted. She took Pinepaw's natural inclination for fighting and for her same manipulative and strategic tendencies and helped it to bloom, then welded it into a lethal weapon. Though Lightbird did encourage her already dark morality and didn't particularly help her emotionally to grow, Lightbird did actually make Pinepaw into an incredibly confident and capable cat, fully aware of every limit she had and how to work around them for success.

Pinepaw never stopped suspecting Patchfang of murdering Thistlepaw, and as she matured and realized how bad of a mother Patchfang had been, that suspicion solidified into direct hatred only fueled further by her siblings' agreement with her. She avoided Patchfang at all costs, and when they did interact, it was often a verbally and occasionally violent affair. Honeypaw tried to defend his mother, which formed a rift between the remaining four siblings and him.

Pinepaw graduated into becoming a warrior right on time, alongside her siblings. Pinepaw become Pinespider, for her aptitude for strategy and quick-thinking. Rookpaw was named Rookfall, Honeypaw became Honeyclaw, Erminepaw became Erminefern, and Dewpaw became Dewfire.

Once Pinespider became a full-fledged warrior, Lightbird had little to do with her former apprentice, but Pinespider formed a friendship with an older permaqueen named Heronflower. She reminded Pinespider of Thistlepaw and she helped Pinespider to round out her emotional range somewhat. Erminefern eventually settled down with a mate and gradually, systematically removed herself from the violent hatred in the family to prepare for one day welcoming kits into the world. She didn't want her kits to be raised at all like she was. Pinespider wished she could have let go of her hatred like her sister, but she couldn't move past her resentment for how Patchfang treated her father, potentially killed her brother, and robbed Pinespider and her littermates of their kithood with her blind quest to produce vicious warriors for Redwoodclan.

During one fateful battle between Redwoodclan and Lichenclan, Patchfang and Pinespider both wound up slightly separated from the main battle.Pinespider was moving to return, but Patchfang was cornered and attacked by a Lichenclan warrior while Pinespider stood, mostly hidden and silent, nearby, witnessing. She was near enough to intervene if she wanted to. She could have stopped the Lichenclan warrior, easily. With two formidable Redwoodclan warriors against them, the Lichenclan warrior didn't stand a chance. Instead, Pinespider watched her mother fall beneath the enemy's claws mercilessly. Then, she darted right by the body to chase off the warrior and re-enter the fray. If Patchfang was still breathing, still able to be saved, still alive or already dead as Pinespider coldly stepped by, she didn't bother to stop and check. Erminefern also died as a result of wounds she received in battle, which allowed Pinespider to pretend to be grieving for both losses she received during the battle. While she didn't receive as much closure after Patchfang's death as she thought she would, she didn't regret her actions in the slightest. She sat vigil by Erminefern's body, and ignored Patchfang's, before continuing on with her life.

She was given her first apprentice shortly after the battle that took her sister and mother's life, and while she was skeptical of the child at first-wishing for nothing more than to not become her mother, but also wanting to shape the youngster into a worthy warrior-she eventually found a happy medium, and Seapaw flourished under her careful care. To call Pinespider 'maternal' would be a grave mistake, but when given an apprentice to care for and guide, you will rarely find a cat more devoted to ensuring the physical, mental and emotional well-being of their apprentice, while ensuring they blossom into the best cat they can be.