Post by bee on Mar 28, 2020 19:30:20 GMT -6
HORNETCLAW
THISTLECLAN
russet ticked tabby with yellow-green eyes
warrior
female
thirty-two moons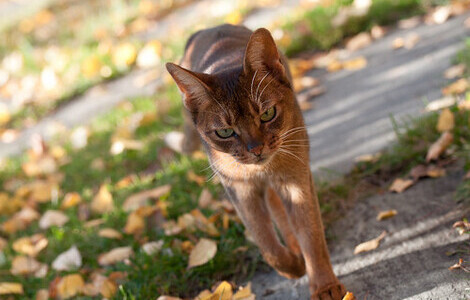 Appearance
Physical attributes laid out brick by brick, Hornetclaw is not particularly noteworthy. Her fur is a dark rippling of russet: red in the light, brown in the dark, short and thin and neat. It grows darker on her back and forehead, lines her chin and her eyes with white– the eyes themselves a yellow-green, pale. Her ears are large but not overwhelmingly so, her face triangular but not angular, her frame a middling sort of small. Though her otherwise uniform pelt is raked with the occasional scar, there are none large or jarring enough to call much attention. Only her stature, perhaps, would warrant any notice, but not in an extraordinary sense. The corded muscles of her shoulders and forearms are only natural for a warrior of Thistleclan ranks, and while her lean build and powerful haunches are obvious products of concentrated training, they are nothing any other cat wouldn't be able to possess or attain if they had the mind to.

Physical attributes laid out brick by brick, Hornetclaw is far from noteworthy. However, there is something about her that draws the eye regardless: her ever-present, unmistakable intensity. No matter the situation there is a constant coil of tension along her spine. Hornet steps light, but there's weight to her movement like she's always ready to pounce. It's like a barely sheathed claw, a bubble of anger about to pop, a moment drawn into eternity, a breath of perfect perfect stillness before everything shifts. It never goes away. Not when she's alone, not when she sleeps. It is a part of her: real and true as the fur on her back or the gleam of her teeth and it shines in the sharp set to her jaw, the piercing blink of her eyes.

Personality
Hornetclaw is for all intents and purposes a pretty simple cat. That's not to say that she doesn't have depths– everyone has depths, she's not special in having none– but she is of the mind to make things simple. Straightforward and brusque in both her thoughts and actions, Hornetclaw means what she says and tries her best to do what she means. She doesn't have time for political games or picking through the unsaid for bits of truth. She wants the bare bones laid out for inspection with no regard for the rest. Often when she talks to someone, it is without thought for who they are or what her words might mean beyond the intended effect. This can make her unbiased and unmoved by ruffles and frills that might trip up another cat, but it also means she falters or goes ignorantly on when diplomacy and understanding of different layers really are the best option.

Focused and determined, Hornetclaw is a dedicated warrior. At a base level, it's what she's been training for her whole life. What would be the use in training if she didn't perform to the best of her abilities? Beyond that, there are cats that need to be fed and protected and Thistleclan is her home. Her purpose. Hornetclaw is not one to cling to the words of Starclan, finds more comfort in standing tall and breathing long and knowing herself and her place. Sometimes she thinks Thistleclan is her only purpose. And it might seem sad but Hornetclaw doesn't feel so. She was born in Thistleclan, what more purpose is there to seek?

That lack of tact combined with her one-track drive mean that Hornetclaw is not her best in social situations. That's not to say that she doesn't speak when spoken to or that she has no desire to talk to other cats herself, but her lack of filter and general disregard for social cues others might value as important means that it's hard for her to make friends, or connect with people who understand her through conversational means. Her lack of an appropriate filter and desire to say what she means might on another cat result in bluntness, but with Hornetclaw's added (and often unsolicited) opinion in the mix, it often happens that what Hornetclaw means to say does not come across kindly to those on the other end. She's not bad at conversing but she's rather awful at communicating, and it's gotten to a point where she's over it. She's aware of this shortcoming and with no desire to train away her base nature, she's simply drawn away from emotional conversations or situations in which she could do damage. If worst comes to worst, she still has her claws.

Though practical some regards, Hornetclaw, for the most part, is a pretty emotional cat. She's very grounded in her sense of self and so goes with her emotions. If she feels something she will see no need to hide it, often making things like lying and acting beyond her. Hornetclaw can be aggressive if riled up or caught at the wrong time, and the restraint she carries with her is prone to shattering if those around her rub her the wrong way.

Finally, Hornetclaw's turbulent emotions, dedication, and general lack of concern for the sensitive toes of others mean that she can be remarkably self-centered. Not in the vain sort of way– she couldn't really be bothered to care about how she looks beyond perhaps 'highly competent' or 'scary'– but in a self-absorbed sort of way. The reason her tension runs so high is that she's constantly turned inwards, picking over her mistakes, her goals, her thoughts and desires– of no mind for those around her. Her aura isn't a result of outwards projection but rather intense internal reflection, and she can be unwittingly blind to the feelings and struggles of others. It doesn't make her very empathetic, nor does it make her incredibly observant when it comes to picking up on how others are feeling– not that she cares much at all.

History
Hornetclaw was born a squalling little kit. Her parents, Minkfur and Dustclaw, were on their second litter and after 29 moons of growing together, they had learned. They were nurturing but not overbearing, present not absent, absolutely determined to give their kits a full and happy kithood. And so Hornetkit, with her brother Wrenkit by her side, had exactly that. She was loud and intense and prone to temper tantrums, had too much energy and then not enough when it was needed. She was volatile and stomped about, and she wasn't particularly charming in her lofty demands either– perhaps a bit too knowing, ready with a piercing stare whenever anyone tried to soothe her temperament with empty words. But she was still a kit and so she loved to pretend to be a warrior, to jump on her parents with glee, and to play with Wrenkit who was her favourite. If he wasn't her brother she might've found him too timid for her tastes but he was her brother and so she loved him fiercely and unequivocally. They had an older sister too. Her name was Hawktail and she wasn't a secret by any means, but she was apart from the rest of the family in a way that Hornetkit didn't understand. She tried approaching her older sister with Wrenkit from time to time but Hawktail never seemed to want to play with them as much as they wanted to play with her and so Hornetkit drew back.

The beginning of apprenticeship marked more than just a changing of dens. Hornetkit had grown into Hornetpaw and suddenly she had something to channel her energy into, something to focus on, something to fight for. Somewhere, somehow, she'd begun to grow up and the childish temper tantrums faded into bursts of targeted aggression. She spoke less of herself but seemed to retreat inwards all the same, a retreat only exacerbated by her peers' reluctance to socialize with her. They were Thistleclanners (a title she grew into more and more each passing day) and so they were no stranger to barbed words, but Hornetpaw was just a little too intense, more unnerving than anything else. Wrenpaw was the only one her age who really talked to her. That was fine. If they couldn't handle her as she was then it was a good thing they didn't associate. She had Wrenpaw still, she would always have Wrenpaw, and that was enough for her.

Her mentor was a large tom named Longstone. He was something of an anomaly in Thistleclan and loomed large over the majority of the warriors, comical in comparison to his intense little scrap of an apprentice. Contrary to their appearances, they fit well together. Longstone was harsh and strict and expected things from her, would accept nothing less than her best efforts. Hornetpaw threw herself into his training until she'd battered herself silly, and then they would sit down and they would talk over how she could improve and eventually they spoke of other inconsequential things as well, albeit rarely. He taught her how to use her size to her advantage, how to step light and hit hard and then he taught her how to talk large, fight large, be large. She trained and she became sharp.

Nearing the end of her apprenticeship, around her 11th moon, everything went wrong. The apprentices were out training, and Hornetpaw stood apart, pointedly not hovering over her brother. Wrenpaw was much better at talking to the other apprentices than she was and so he had friends and people to be around that were not her. She was determined to make use of the training time, even if others (including her silly brother) would not. She wasn't there to make friends or to impress people, she was there to get better and so she turned a blind eye to the laughing and the shouting and it was only when there was shrieking that she spun around in time to see Wrenpaw hit the ground with a sickening thump.

He'd gone and gotten his leg broken and Hornetpaw couldn't have been more furious. He was an idiot and what if he'd broken more bones? What if he'd snapped his neck? What if he'd never gotten back up again and she'd have to go on alone and without his familiar presence at her side? He was to be hidden away in the medicine cat's den for three whole moons during which she would become a warrior without him. The very thought of it made her blood run cold. And what had he been doing? Trying to show off for a pack of losers who didn't give a rat's ass about him anyway? It was awful and wrong and stupid, so so stupid, and she made sure to tell him so in great detail because what if he had died? He couldn't do something like that ever again and she made sure to tell him that too and it was only when she drew back and paused for breath that she saw his face and stopped.

They didn't talk for the next three moons.

If her prior moons had been spent serious about training, her last moon as an apprentice was obsessive. Wrenpaw had been the only cat she'd talked to aside from her parents, who were busy coddling Wrenpaw, Wrenpaw who wasn't talking to her now (but she wasn't talking to him either so it wasn't like she'd done anything wrong), Wrenpaw who had been her only distraction from training. Without him, she avoided all else with a furious, restless energy. Her peers avoided her even more, her presence made all the worse because she never once turned her anger upon them like before. Instead, she clawed up tree trunks, practiced the same moves hours after practice was truly over, took to every task like it was the last thing she'd do before she died, even if it was just cleaning out the elder's den. Longstone was worried for her but he didn't interfere except to remind her of her health.

A moon later and her name was Hornetclaw. A moon later and she was a warrior alone. To make matters worse, Wrenpaw still had not spoken to her. She understood on one level that he was stuck in the medicine cat's den anyways and could not actively seek her out, but he hadn't spoken to her when she'd paced back in forth in front of the den a couple of times so he clearly didn't care to, even when she was in talking distance. Instead, she watched from afar as he and Hawktail grew close instead. Before, it would've made her angry, but she had watched Hawktail from behind all her life, their older sister who'd never bothered with them, and she felt sad. It wasn't something she was accustomed to feeling before, but she was sad and maybe a bit lonely and she knew now that she'd hurt her brother and that he was still hurt.

He became a warrior. She apologized. It was a bad apology, as apologies went. Hornetclaw cornered him after his ceremony, bowed her head, and let forth a stumbling trickle of words that barely passed for a sentence. "I'm sorry," she'd said at the end. "For hurting you." And it was awful but she'd always been a bit awful, and Wrenfeather forgave her because he'd always been forgiving. They moved on.

At 24 moons old, Minkfur and Dustclaw had yet another litter. Hornetclaw didn't really know what to do with kits, how to talk to them or play with them or even be around them for extended periods of time, but she tried her best to be there anyway. Wrenfeather, she knew, was ecstatic about having new siblings, and so she tagged along whenever he went to visit and made sure to bring the best pieces of fresh kill for her mother.

Around that time, Hornetclaw started to talk to a young warrior named Rowanberry. She was younger than Hornetclaw, hadn't seen her after Wrenfeather's fall. She only saw– well, Hornetclaw didn't know what she saw. She approached her after one of the family visits and she struck up a conversation, an inane sort of conversation about kits or flowers or the best type of kill to eat, and Hornetclaw despised her at first. She seemed silly and naive and completely unaware that Hornetclaw didn't want to talk to her, even when Hornetclaw told her explicitly just how much she would like to be left alone. But Rowanberry bit back and refused to avoid her like she was supposed to and Hornetclaw had never really had someone do that before, someone who wasn't blood, who wasn't obligated to care for her from the beginning. And Rowanberry had deep amber eyes and a belly laugh that didn't match the rest of her petite body and Hornetclaw didn't know. She was nice. Hornetclaw didn't know.

So her life started to fill with people. She was talking to her parents more, watching over Sorrelkit and Nettlekit, talking with Wrenfeather again, tolerating Hawktail's presence, sitting with Rowanberry during breaks and trying not to stare. Of course, they were all related to her and she was mooning embarrassingly over the one cat that wasn't family, but it was something. It meant the knot in her chest unfurled a bit. She was looser with her words and smiles, fulfilled her duties as they were: duties, not something to take the place of anything else. She was happy.

At 26 moons old, Rowanberry got a mate. He was obnoxious and muscly and Rowanberry's age and his favourite hobby was sneering at her and then flinching away when she snarled back. His name was Patchface but Hornetclaw took to the habit of calling him anything but, out of spite. He thought she was rude and probably resented the fact she didn't worship the ground he walked on and Hornetclaw knew he was a little shit who wanted to take Rowanberry away from her. At 27 moons old, Rowanberry invited her out for a walk. She was glowing, practically jumping for joy the entire way through and she'd been hinting at a surprise. Hornetclaw knew she had a mate now but it didn't stop the traitorous sprout of hope in her chest. Maybe Rowanberry had finally realized what an awful piece of work Batchlace was and she would ask Hornetclaw to be her mate instead. Rowanberry turned to her and announced that she was pregnant. That Hornetclaw would be like an aunt.

And Hornetclaw had always been a bit awful and she had never been a liar and so she looked at Rowanberry in her pretty shining eyes and she asked her just how idiotic she was. Her mate was an ugly stuck up buffoon and Rowanberry was beyond stupid for wanting to be with him and why would she ever in a million years think that Hornetclaw would want to be an aunt to her kits? If this was how it was going to be, then Hornetclaw would rather never talk to her again. Anything would be better than suffering through this. And then she turned around and walked away because if Rowanberry had been the one to walk away from her then Hornetclaw thought she'd probably just collapse to the ground and bash a hole in the dirt with her head and never get back up.

Rowanberry didn't speak to her again and Hornetclaw avoided the very sight of her. She even ignored intolerable Ratchdace who liked to make faces at her and turned towards Rowanberry every time she so much as twitched in his direction. She couldn't bear to distance herself from her family though, not even with the anger and hurt and terrible hollowness shifting within her, and so she went on as if nothing was wrong. Nothing was wrong. The moons marched on and Hawktail became deputy. Sorrelkit and Nettlekit became apprentices. Hornetclaw was glad she didn't have to keep hanging around the nursery. As of now, she has her family and conflict with the rogues is enough to keep her claws sharp and her mind busy. As of now, she has enough.