Post by bee on Mar 26, 2020 11:03:04 GMT -6
DUCKTAIL
LICHENCLAN
lithe brown tabby with green eyes
warrior
male
nineteen moons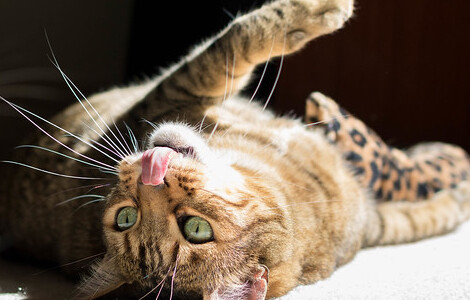 Appearance
Ducktail is a slender cat, long in limb and notoriously bendy in design. Though skinny, his body is corded with a lean sort of muscle, the result of moons spent clambering the rocks and swimming along the shore. His light brown fur is lined with thin tabby stripes and though short and thin, it's often ruffled. In the sun it melts into something like gold.

An expressive cat, Ducktail doesn't really walk so much as amble or run so much as leap. Every action must be infused with emotion, whether it's a glance to the side or a flick of the tail. His green eyes are– like the rest of his face– open and inquisitive, while a few dark lines are streaked down his forehead.

The tom can often be found with a smile, something that transforms his otherwise sharp features into rounded lines. Sometimes he'll be found just smiling to himself, though whether he's laughing at something private or is simply unaware he's smiling at all, is a mystery.

Personality
Growing up in Lichenclan, one of the first things Ducktail learned to do was to curb himself. A naturally talkative and energetic cat, he was told to hold his tongue, to tone it down, to sit and wait rather than jump ahead. It wasn't a lesson that was wholly effective (despite the scoldings of his family and his mentor) but it meant that he learned in part to hold himself back, to swallow his words and observe. That dichotomy between bottled energy and tenuous restraint means that Ducktail is often prone to odd bursts of energy, quickly followed by moments of absolute fidgety silence.

It's not easy, but Ducktail has always been a people-pleaser. He's not a pushover in the traditional sense of the word– he's always been opinionated and overconfident and pushy– but he's aware of the expectations of his family and the clan and Starclan above, and he holds that weight to be above any natural inclinations he might have. He's a bit simple in the sense that he likes to see people happy and satisfied and proud, and he likes being the recipient of those emotions. He likes to see people happy and he likes to be happy and if he has to bend himself into something more bite-sized or keep quiet about what he really thinks, he's willing to do so.

That means Ducktail can have some problems when faced with larger issues, though, the big ones that maybe can't be smoothed over by going with the flow or doing the easy thing. The tom is observant when it comes to the small things, finds joy and wonder and fun in discovering shiny bugs or in charming people with just the right words. But he tends to fall back on the small things too, tends to avoid larger issues in favour of distraction or dramatics. Ducktail hates to be sad as much as he loves to be happy, and he's more likely to focus on symptoms than roots. He's the type to mediate, to smooth over jagged edges or obvious tensions, but he's also the type to dither about when it comes to making hard calls or facing reality.

Friendly and joyful, Ducktail forms attachments easily. He's very loyal to those and that which he loves and he's not shy about showing his affection or collecting 'loves' like stones. It means he's kind of a bleeding heart and ups and downs in his personal life can sometimes affect his performance as a warrior. He's empathetic and caring but sometimes the attachments he forms can be painfully one-sided or can take over the majority of his thoughts without room for anything else. His feelings, bottled up as they are, can be all-consuming, whether that means pining despairingly after multiple cats or flooding his nest with just too many pretty shells.

History
Ducktail was born to Adderfoot and Tansyfur on a sunny day, one of three kits in the litter. His parents were both the contained sort, quiet and unobtrusive in both their mannerisms and their love. They'd grown up together, sharing their own kind of language, and when they became warriors and the moons went by, they fell together and had kits for it was natural. And so Duck-kit, Goosekit and Grousekit (his sisters) grew up under the gentle chiding of their parents.

Adderfoot and Tansyfur were by no means harsh, but they had rules and they had expectations for their kits that accounted for the strength of the clan. Conformity and assimilation to the clan's values were key, and so while Duck-kit tussled away with invisible opponents and pounced on the tails of unsuspecting warriors he was always dragged away by the ear and made to sit or nap quietly with his siblings instead. He loved them of course for he was their brother and while they were quieter and more obedient, they indulged him too.

Goosekit was the biggest of the three and would pretend to be an enemy warrior whenever he asked. He loved her. Grousekit would scold him in perfect imitation of their parents and poke at him to eat the best morsels of food and he loved her too. The six-moons as a kit passed by with minimal success in lowering his energy, but Duck-kit also grew to enjoy lying awake as the rest of his family slept, to cherish the whoosh of their breaths and the strange warm tightness in his chest. He felt like their protector at times, silly as it was, because even though he was the smallest, he was the loudest and he resolved to be loud when they wouldn't be and to protect them from any monsters.

When their apprentice ceremony finally rolled around, Duck-kit became Duckpaw and was let out into the world. He was excited, so very excited, for he could finally venture out of the camp and learn to hunt and fight and provide for my family and the clan, and it was all he had ever wanted. His mentor, Fogberry, was a quiet cat, reserved and even-tempered and everything his parents had hoped for in him.

Duckpaw was not blind to the approval in their eyes at the ceremony, nor the well-masked disappointment that followed when he did not immediately adopt his mentor's mannerisms. It saddened him at first. Goosepaw and Grousepaw were graceful in their training, thoughtful in their conversation and they were growing up, growing up without Duckpaw. It would make everyone happier if he was like them.

So he tried. He failed more often than not, but he tried. He matched his pawsteps to Fogberry, fought the urge to yawn and roll over when reminded of proper etiquette, sat on his paws to stop from twitching and shut his mouth before he could open it to speak. He grew up and it was worth it to be able to nuzzle up to Tansyfur's side and not be scolded, to drop off a vole by Adderfoot's feet and watch his eyes fill with warmth. And he still joked and talked and jumped around, but he kept moderation in the back of his mind, was quick to shut down if a sharp look or comment was thrown his way.

Ducktail grew closer to Fogberry too, learned how to joke with them in a manner that resulted in a response, learned to appreciate moments of simple companionship. There was always a disconnect, even at the end of the apprenticeship, but Ducktail had learned how to hunt from them, how to twist and evade and strike at the right moment, how to navigate different situations and how to lean on them whenever he was feeling discouraged– despite all they represented. And so another six moons melted away and Duckpaw became Ducktail.

He loved his new name. It meant he was agile and balanced and it was just a little bit silly too and he wanted to shout it out loud in front of all three clans, wanted to speak in third-person for the rest of his life. Goosepaw became Gooseheart and Grousepaw became Grousefrost and all three of them moved on as warriors, joining the rank of their parents.

Ducktail had real freedom now, could go outside whenever he wanted, could actively do things to protect and strengthen his clan, could give back to Starclan in full. His first few moons as a warrior were spent in joyful dedication. He threw energy and life into each task in the daily routine and he strove to perform as best as he could. However, he was working himself harder and harder and as the moons went by, he realized that it was enough to perform adequately and chase after his own interests as well.

The more tensions rose between Lichenclan and Redwoodclan, the more battle training and extra effort the clan pushed, the more Ducktail began to backslide. He was a warrior now and his parents were getting older and his sisters were devoted and capable and after doing his patrols he could spend more time wandering for the sake of it, batting at fish without needing to catch them. Maybe it was his way of avoiding the conflict, maybe it was the eventual step back after pushing so hard for so long, but it began to show.

His family took note and tried to shunt him back on track but Ducktail simply took in their words and did nothing more. Grousefrost especially took it upon herself to "help" him, but upon receiving little to no improvement in his attention span or behaviour she lashed out. They fought and shared bitter words and for the following moon, Ducktail's nineteenth, they spoke no more. The topic was dropped, a heavy stone in a still lake. Ducktail went on.