Post by viktor on Mar 20, 2020 16:35:31 GMT -6
Tawnywhisker
Thistleclan
Long-furred buff-colored bobtail molly
warrior
afab
14 moons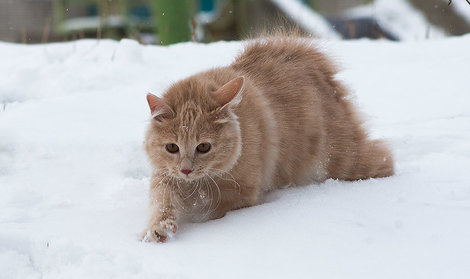 Appearance
- At first glance, Tawnywhisker is a fairly average-sized cat. While close to the truth, it isn't quite accurate. Tawnywhisker is an average-height molly, but she is a bit on the lean side beneath her thick, fluffy fur. The lacking of her tail makes her no less of a hunter or fighter, though she is a cat who tends to prefer to be on the ground. While she is swift and agile, maintaining her balance on the slender branch of a tree is more risky without her tail. Tawnywhisker earned her suffix for her good senses which makes her an excellent natural hunter. She's good at tracking and stealth and has a good amount of patience. She isn't very strong, but she makes up for it in being tenacious and swift. She is a passable fighter-She did manage to become a warrior after all-but she isn't the best around, due to inexperience. She could become a well-rounded and excelling cat if taught properly and she got some experience under her belt. Her biggest weakness is her lacking of strength and her anti-inclination to climb.

- Her fur is a simple, unmarked buff color with faint tabby markings and her fur is medium-to-long length and very soft. Her most notable trait is her bobbed tail, of course, a defining mark of her family. While simple, she is definitely an appealing young molly to some, though beauty is truly in the eye of the beholder.

- Completing the soft and elegant look Tawnywhisker carries, her face is a fairly round shape, without having a pushed-in-nose or chubby look. Her fur does most of the work, making her look soft, pretty and feminine in the face. Unfortunately, her expression itself is usually cold and distant. Tawnywhisker's eyes are a hazel-amber color, blending into the buff coloring of her fur quite nicely. She does possess the tabby 'm' on her forehead, but like with her other tabby marks, it is fairly faded.

Personality
- Mature

- Perceptive

- (+/-) Ambitious

- Irritable

- Jaded/Hardened

A well-rounded molly who acts significantly older than she is, Tawnywhisker has a lot of promise as a warrior for Thistleclan. She is very good at taking charge of a situation and directing it and delegating tasks to others. She is a natural-born leader beneath some of the rougher edges, and has the ambition to potentially one day climb the ranks of Thistleclan. In fact, she plans to, though she is very private about these plans and aspirations.
She doesn't like revealing herself to be much of a thinking and feeling creature to others. She is involved with her clan, but mostly in a work-only way and struggles a lot with friend and familial connections. She hates 'mothering' other cats EXCEPT for her siblings, who she loves dearly and will mother the heck out of. She does not look forward to her future apprentices due to this fact, and doesn't brook immature cats well. She's very family oriented except for her relationship with her mother. She never met her father, and feels no grief over his passing.

She could be called cold, and you would be right, but one must understand that she was not always this way. She harbors a deep well of softness underneath the hard exterior. She is a bit of a hopeless romantic, so when she falls in love she falls hard, but her hard exterior means she's rather picky about the personality of the cat she falls for. She's been hurt before. However, her heart is still soft, and she tends to fall before she can logic her way out of it.
She's very perceptive and good at picking up on problems and fixing them but she doesn't like going out of her way to fix other cats' problems. She is fairly self-contained and self-interested. She cares deeply about her clan and wants what is best for them, but she struggles to care about individuals. She can be harsh on others and expects a lot out of herself and others. She will work herself to the bone to prove herself, even if she grumbles about it.
She adores her family, and they are some of the few cats who can make her open up and goof around, which is vital for her. If she doesn't have friends/family to help her relax, she'll literally kill herself working for her clan and for her own ambitious wishes.
Overall, a very intense, ambitious, and hardened she-cat who hates 'mothering' any EXCEPT her family and is a hopeless romantic. She is great with kits, but unsure if she wants any when she gets older.

She has a very strained relationship with her mother. Where her brother Harekit would try to make her laugh, she felt ignored by her mother. As she got older, she felt more and more responsibility to care for her siblings weighing on her shoulders as well, as her mother's depression made it hard for her to. She loves her mother, but is resentful of the fact that she had so much responsibility placed on her so young, but she is trying to learn to forgive. She's not a super-religious cat despite being a Thistleclanner but she definitely believes in Starclan and is a loyal follower of Thistleclan.

History
- If asked who her father was, Tawnywhisker would have to take a second to try to remember, or would simply mutter that it didn't matter. It didn't matter when she was a kit, and it doesn't matter now. Dead cats stay dead, and he hasn't been all that helpful to her since he up and died before her birth. She doesn't resent him at all, can't hate what she doesn't know. She simply doesn't care about him. If asked about her mother, though, Tawny will snap out her name quick as a whip-But move the conversation on just as swiftly. Her feelings for her father are non-existent. Her feelings for her mother are too-many. Tawnywhisker's kithood was first defined, in her very earliest moons, by confusion. She saw other kits doted on by their mothers, and sometimes, Fawntail had the energy to give her kits the attention she wanted to and they needed. But then, her depression would drag her back away into a distance from the litter, and Tawny would be left, with a mother well within reach physically, but for whatever reason, wouldn't interact with her emotionally. It was a strange yo-yo of emotions and left the kit deeply confused, uncertain what she'd done wrong.
As she grew a little older, she began to recognize it wasn't her, but that didn't make it any better for Tawnykit. She began to feel responsible for her siblings' care, ensuring they were in the nest to get plenty of sleep, telling stories-Or trying-and otherwise doing her best to messily fill the role their own mother was lacking in. It wasn't Fawntail's fault, ultimately, it was nobody's fault, but at the end of the day, somebody had to do it. Tawny was the one to step up, and get the job of raising her brothers and sister done, and that mentality stuck like glue to the impressionable kit.

- Tawnypaw was apprenticed to a fairly young warrior called Tansycloud. He was a sweet, small cat. They got along well, as he was quiet and easy-going and Tawnypaw felt safe and supported enough to open up around him a bit. He was a good hunter, and her natural talent blossomed under his teaching, though both were a little lacking in fighting. Tawnypaw was interested in learning how to fight, though, and wanted to ensure her ability to pass her assessment, so she took up some extra training with the one apprentice she could tolerate, besides her siblings: Quillpaw. A fierce and beautiful calico molly, they grew close over the course of their training, and the relationship eventually blossomed into young love. With the love of Quillpaw and Tansycloud's supportive, gentle nature, Tawnypaw thrived, finding a good balance between cleaning up her sibling's messes after their mischievous antics, her training and ambition, and her personal relationships helping her to relax and not work herself crazy. That is, until Quillpaw cheated on Tawnypaw. When Tawny confronted her, Quillpaw attacked her, criticizing her workaholic attitude and tendency to take over situations when she felt they were uncontrolled before leaving in a huff.

- Tawnypaw received her warrior name right on time, becoming Tawnywhisker alongside her siblings. She couldn't have been more proud of herself or her littermates. She is a young warrior, but she has a lot of ambition and drive to make it happen, especially since the break-up with Quillpaw, now known as Quillface. The two she-cats make their interactions minimal, and often when put together for too long, explode into a loud and verbally vicious fight. The bad blood has not abated in the moons since the break-up, and Tawnywhisker is equally as icy toward Quillface's mate, Nettlejaw. She views Tansycloud as something of an older brother or father figure, and remains very close to him.